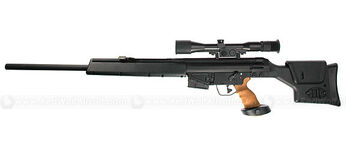 The
PSG-1
(
Präzisionsschützengewehr
, German for "precision-shooter rifle" or "marksman rifle") is a semi-automatic sniper rifle designed by the German company Heckler & Koch of Oberndorf am Neckar.
The MSG-90 is a militarized variant of the PSG-1, that is both strengthened and lightened. The PSG-1 and MSG-90 share the same trigger group and adjustable trigger shoe. The composite shoulder stock of the MSG=90 is adjustable for height (cheek), length of pull (shoulder), and is smaller and lighter than that of the PSG-1. MSG-90s have a slightly shorter contoured barrel to help with harmonic stabilization and consistent whip instead of the PSG-1's heavy barrel, but remain free-floating. As a result, these particular MSG-90 A1's have a threaded barrel capable of attaching a suppressor, which is an advantage over the PSG-1
The H&K MSG-90 is portrayed in-game under the same name, but it should be noted that the in-game model appears to be a PSG-1, as opposed to MSG-90 At its Base, the MSG-90 has medium damage, high accuracy, and medium Aggro.
Cost: $12,500
Ammo capacity: 5
Barrel
MGS Sniper-Wulf Mk.2 - $4,000
Black Briar Elite - $9,500
Stock
Reflex T37 Black-Horse - $4,000
Cartridge
8-Round Magazine - $7,500
Suppressors
L18 Deaths Whisper - $2,000
Appearance
Standard - $0
Pimped - $10,000