The HK416 is an assault rifle developed by Heckler and Koch. The HK416 itself is a modified version of the M4, with higher reliability as the primary selling point.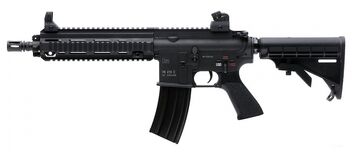 Called the M416 in the game, the HK416 is a well rounded assault rifle with stats similar to the
SCAR-L
. The primary disadvantage of the HK416 is the incredibly high aggro, which can be a hindrance at times. The K23 Assault barrel seems to be tailored specifically to fit on the HK416 (even though it has no difference from the default M416 barrel aside from the length).
Recommended ConfigurationsEdit
M416 CQB
(Use SC-3 Triton barrel, FELIN-2C Magazine, Ruslan MK.3 Stock, an E40 Vertical Grip, a ZT Reflex sight and a TLB Shadow silencer)
PROs: Has great handling and low aggro.
CONs: Precision is average and damage is sub-par.
CQBR
(Use M416 Magazine, M416 Stock, E40 Verti-Grip, ACG Night-Ops silencer, and a MG36 scope)
PROs: High Precison and Damage.
CONs: Average Aggro and Handling.
M468 Rifle
(Use K23 Assault Barrel, FELIN-2C Magazine, M416 stock, E40 Verti-Grip, ACG Night Ops silencer, and a Red Dot X2 scope)
Pros: High Damage and Precision. Good for medium to long range fire.
Cons: Medium Aggro and Handling.