The Beretta M9, a modified version of the civilian-market Beretta 92FS, is the US Military's standard service pistol. It features a black Bruniton finish and black polymer grip panels; these features became so popular that they replaced the usual wooden grips and blued finish as standard on the commercial model. It began replacing the Colt M1911A1 as the standard service pistol in 1985. Early models were Beretta 92SB's
To reduce jamming when fouled, a slot was made in the M9's slide. This made it prone to cracking if used for extended periods of time. In 1987, three incidents occurred in which a Navy SEAL and two Delta Force operators were injured from slides breaking off during range training. This forced Special Operations forces to revert to the M1911A1 or adopt a different sidearm (like the .45 H&K Mk.23 or 9mm Sig-Sauer M226). Some US officers privately bought 9mm Glock pistols before deployment overseas due to their mistrust of the M9.
The
Beretta M9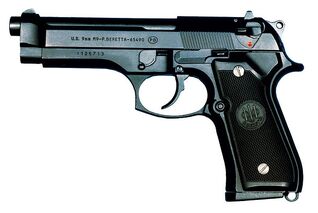 is portrayed in game as the M92 Elite II. It is the starting pistol, and the standard issue pistol for all
SSC troops
. At its base, it has low damage, high accuracy, and low Aggro.
Cost: $0
Ammo capacity: 8
Barrel
LTD Samurai Edge - $5,000
Cartridge
16-round Magazine - $4,000
Suppressor
Appearance
Standard - $0
Pimped - $10,000